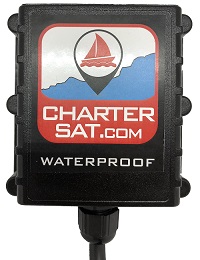 • Boat's real time position on nautical map• Display the last known position
• Status of the boat: anchored, sailing
• Indication of the speed and direction
REPORTING
• Speed in miles
• Miles on a daily / weekly / monthly …
• Tracking of the weekly trip (for the client)
ACCESSIBILITY
• Restricted area accessible via password
• Compatibility with all web browser
• Accessibility via web and smartphones
AUTOTRACKING
Location tracking every 30 seconds. The positions will be registered on the server in order to consult with a history of up to 30 days (or more if required)
GEOFENCING
Possibility to define a geographic area that will serve as a "fence". In the case in which the position of the vessel is outside the "fence" outlined (ex. outside territorial waters), the system will forward an email.
INSTALLATION
CharterSat is a very small device and can easily be installed, without being visible, behind the electrical control panel (plotting area). The device is equipped with satellite and GSM indoor antenna and cable for the 12/24V power supply. Given the very low power consumption (max 100mA), the CharterSat device can always be connected to the service batteries.
GSM
Quad-band 900/1800 MHz; 850/1900 MHzGPRS class 10 (up to 85,6 kbps);
SMS (text/data)
GPS
NMEA, GGA, GGL, GSA, GSV, RMC, VTG protocol compatible
65 channel GPS receiver
-161 dBm sensitivity
Interface
1 Digital Input
2 Digital Input
1 Analog Input (10V – 30V 100mA)
2 Digital Open-collector Out
1-Wire® protocollo
Power (+10…+30) V DC
2 Status LED
Measures: 50x70x20mm – Weight: 50 gr.
Temperature: -20°C +55°C
PACKAGE CONTENTS
• CHARTERSAT HARDWARE DEVICE
• POWER CABLE 12V/24V
• GSM ANTENNA (internal)
• GPS ANTENNA (internal)
• INSTALLATION DIAGRAM
• USERNAME AND PASSWORD TO ACCESS THE WEB SITE